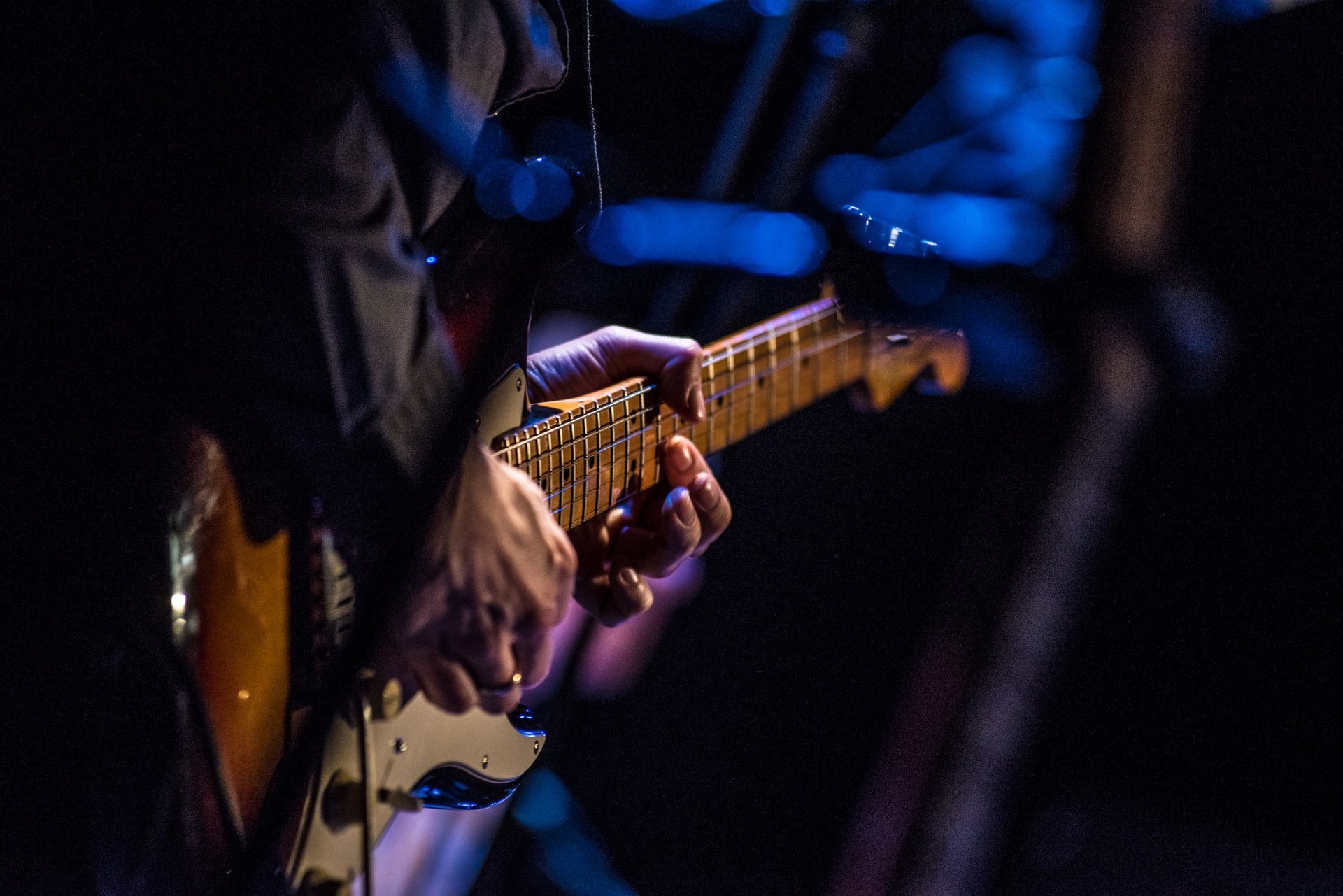 I am an Austrian based guitar player, composer, arranger and teacher. Starting out as an autodidact rock and blues guitarist in my teenage years, I eventually enrolled at the Konservatorium der Stadt Wien (now MUK) where I discovered my love for jazz and improvised music. Adding this perspective has enriched my playing and gives me the creative freedom to realize my musical vision. I love to work in a wide array of stylistic environments – adapting to the specifics of a genre while always adding my own voice to the result.
In addition to my studies I've taken lessons and masterclasses by Harry Pepl, Wolfgang Muthspiel, Jonathan Kreisberg, John Stowell, Gilad Hekselman, Ari Hoenig and others to keep myself hungry for knowledge and constant progress as a musician, artist and teacher. My goal is to never stop learning and improving, and I'm having a ton of fun doing so!
Photos: Philipp Hirtenlehner (1), Bernhard Eder (2), Gerhard Wasserbauer (4)
THE BAD POWELLS – the freaky Soul & Disco Show
THE SOLOMONS – the sunny side of Soul
ELMO NERO – new CD out on November 17!
played and/or recorded with:
Rounder Girls, Otto Lechner, Linley Marthe, Sainkho Namtchylak, Kadero, Stella Jones, Dana Gillespie, Mad Mat Schuh, Lynne Kieran, Eddie Cole, The Bad Powells, Agnes Heginger, Martin Siewert & Boris Hauf (Reeder´s Digest), Swing Time Big Band, Die Lebkuchenherzen, Rondo Vienna, Bob Gutdeutsch, Georg Gabler, Monika Ballwein, Jive Giants, Joe Meixner Band feat. Cassandra Voughn, Luis Ribeiro, Andy Lee Lang, "Big John" Whitfield, Vienna Rai Orchester, Duo mit Julia Sitz, Marianne Mendt, Gina Schwarz Pannonica, Christian Kolonovits, Starmania, Martin Reiter, Bastian Stein, NuRandom, Eva Klampfer, Lukas Perman, George Butrumlis, Robert Bachner, Joris Dudli, Matt Dusk, Langhatta Quarttet, Dancing Stars Orchester, Hubert Tubbs, Dorretta Carter, Chocomenta, Roman Grinberg Yiddish Swing Quintet & Orchestra, Besouro Preto, Wolfgang Ambros, Gert Steinbäcker, Reinhold Bilgeri, Katrin Lampe/Katie Lunette, Lange Nacht des Kabaretts, Robert Riegler, Evelyn Ruzicka, Michael Vatter, Jazzchor Wien, Alexandra Caró, Patricia Simpson, Clemens Schaller, The Solomons, Jimmy Schlager, Kathi Kallauch, Carl Avory, Walter Sitz Trio, Juliane Stieglitz, Sabine Stieger and many more...
Meet me on Facebook, Instagram & YouTube: